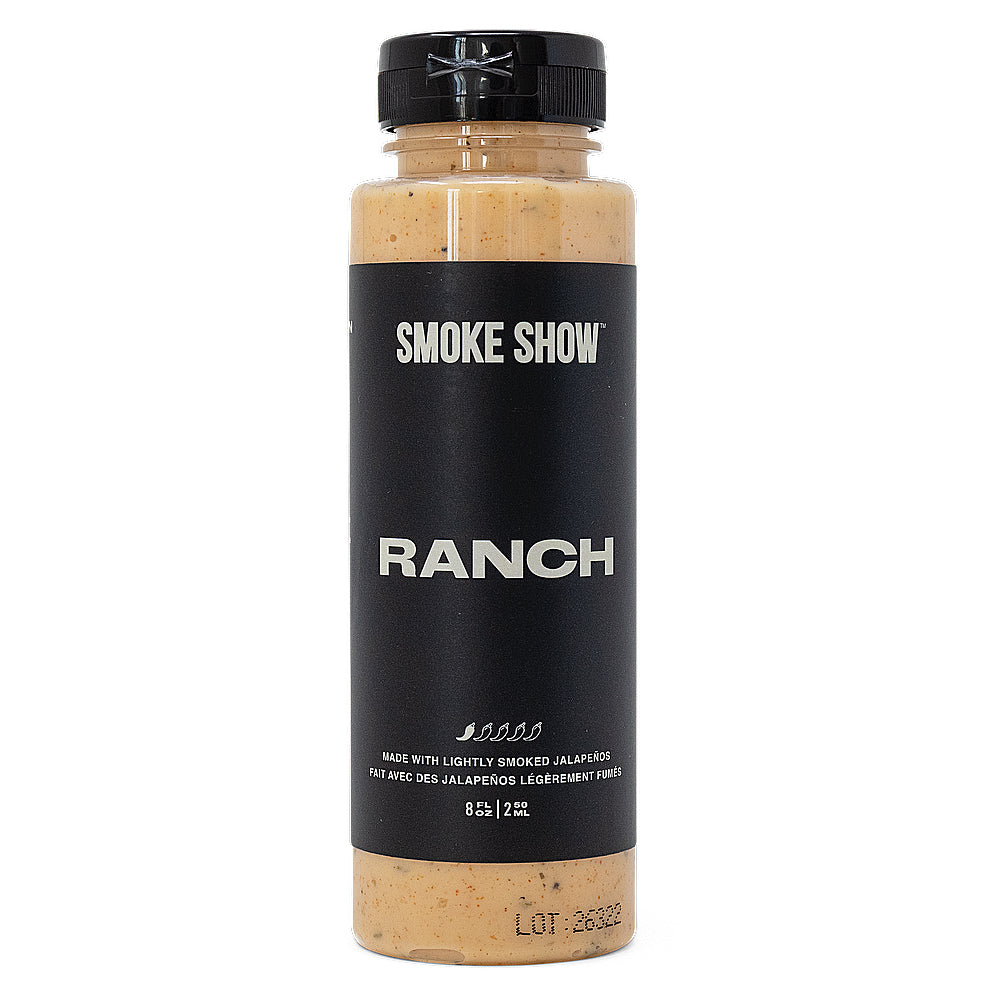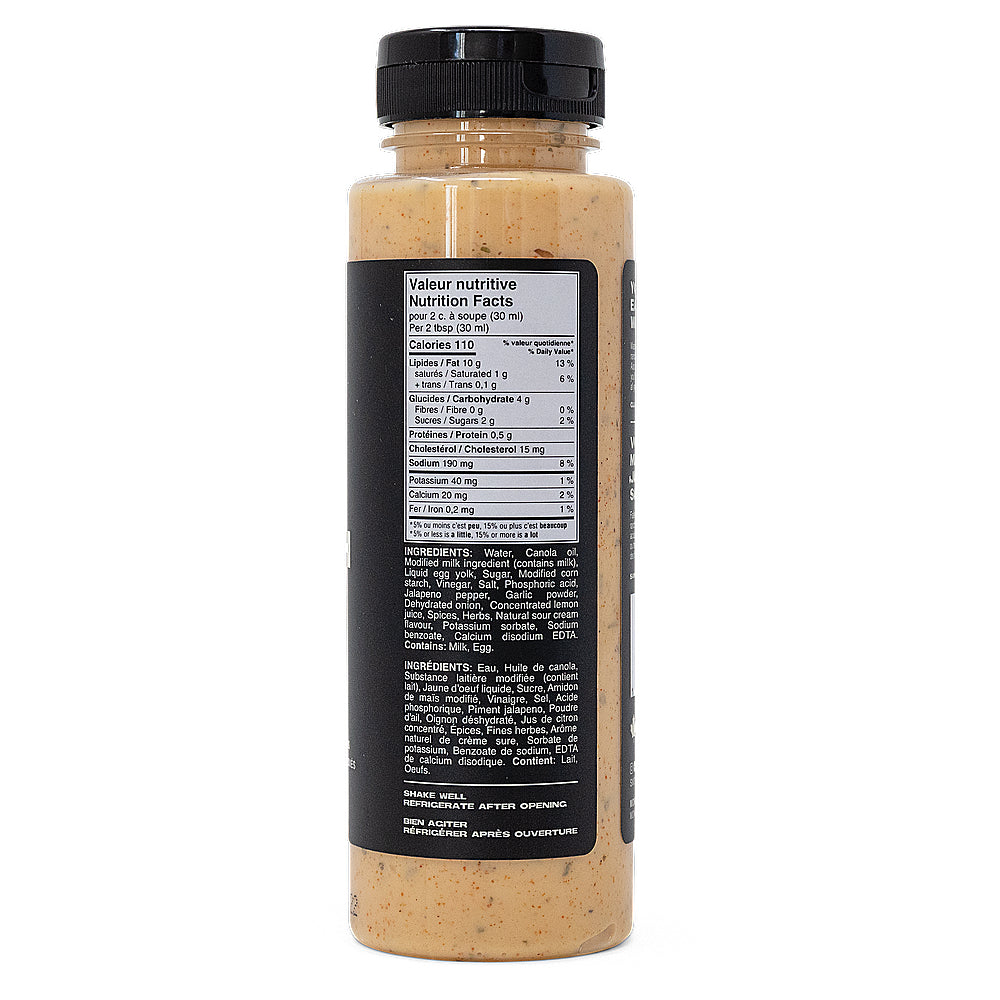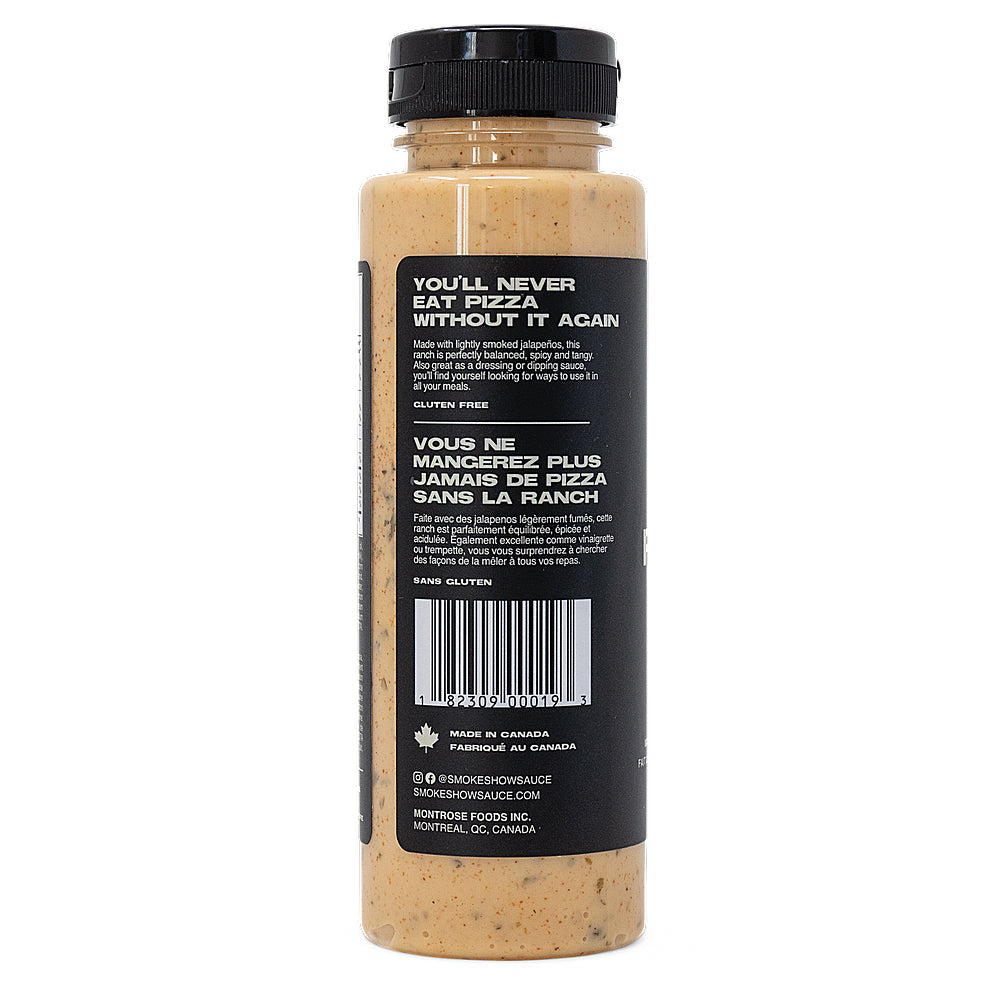 Smoke Show Jalapeño Ranch
This is Smoke Show's jalapeño version of North America's most beloved sauce. This jalapeño ranch is perfectly balanced, spicy and tangy, and unbelievably addicting. Perfect for as a dressing or dipping sauce, you'll find yourself looking for ways to use it in all your meals.
TRY IT ON: wings, pizza, vegetables, potatoes, the possibilities are endless.  
Check out some quick and easy recipe ideas on our recipes page. 
Water, canola oil, modified milk ingredient (contains milk), liquid egg yolk, sugar, modified corn starch, vinegar, salt, phosphoric acid, jalapeño pepper, garlic powder, dehydrated onion, concentrated lemon juice, spices, herbs, natural sour cream flavour, potassium sorbate, sodium benzoate, calcium disodium edta. Contains: milk, egg.
FAQs
All Smoke Show sauces are shelf stable, but do but require refrigeration after opening.
All Smoke Show sauces have a one year shelf life after opening. All Smoke Show spices and rubs have a two year shelf life after opening.
Yes! All Smoke Show bottles and packaging is fully recyclable.
Absolutely! We'd love to help you put together a special gift for your collegues, family, and anyone else. Email us at info@montrosefoods.com for more information.
FRAUD
Was notified it shipped but nothing happened. When I contacted them THEN I was told there was a manufacturing problem and to wait a week or two. Fraud from start to finish.
Great flavour
Not spicy but has a nice mild kick. I used it as a salad dressing and it was also delicious.
Finished the bottle, came back to buy a case!
This ranch dressing is so good! We finished the bottle faster than expected i came back to buy a 6 pack. You've got to try it!
Delicious
This is a great sauce. I tried it on pizza and it was awesome. Already ordered a second bottle it was so good.
Best. Sauce. Ever.
I am in love with this ranch sauce, it has become a staple in our kitchen. The flavour is so unique & you can literally put it on anything!