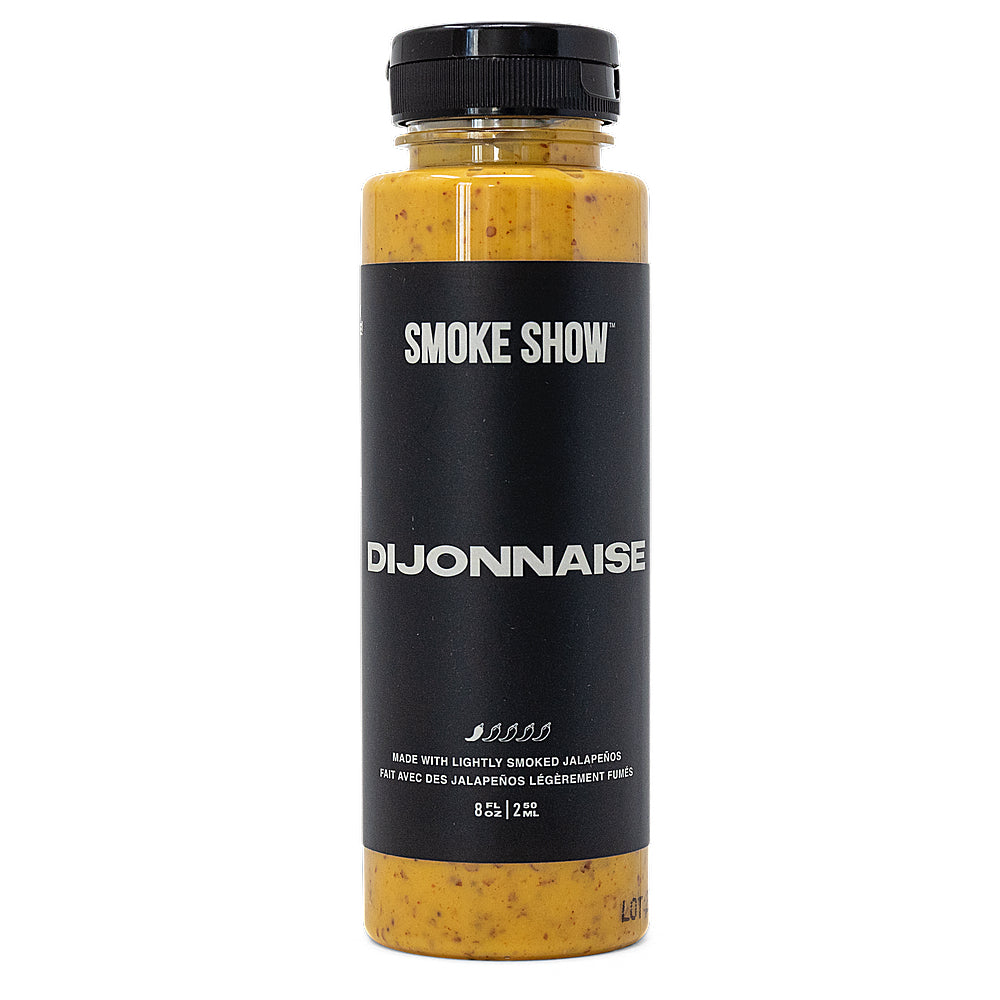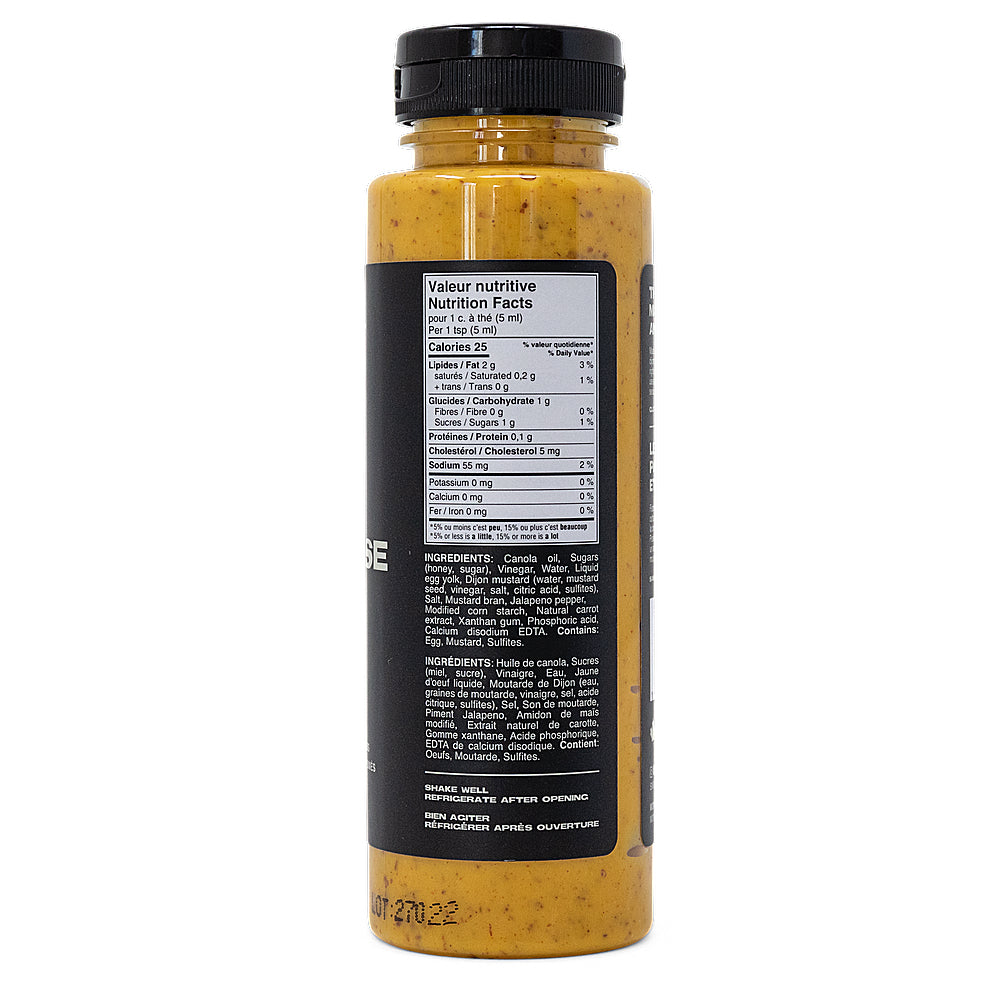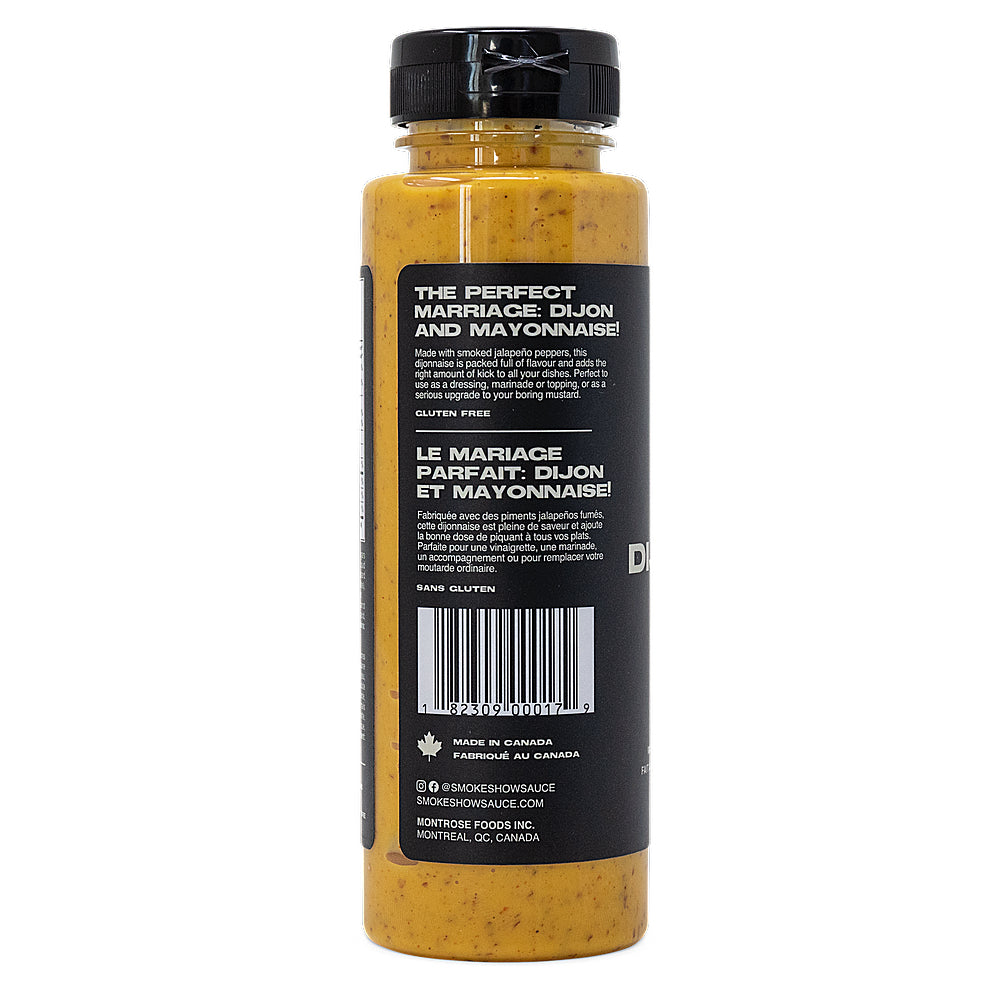 Smoke Show Jalapeño Dijonnaise
Perfect for any sandwich, marinade or salad dressing, this sauce is the ultimate marriage of dijon mustard and mayonnaise. Made with smoked jalapeño peppers, this dijonnaise sauce is packed full of flavour with just enough kick to keep you coming back for more.
TRY IT ON: sandwich, salmon, use it as a marinade, salad dressing and more.
 Check out some quick and easy recipe ideas on our recipes page.  
Canola oil, sugars (honey, sugar), vinegar, water, liquid egg yolk, dijon mustard (water, mustard seed, vinegar, salt, citric acid, sulfites), salt, mustard bran, jalapeño pepper, modified corn starch, natural carrot extract, xanthan gum, phosphoric acid, calcium disodium edta. Contains: egg, mustard, sulfites.
FAQs
All Smoke Show sauces are shelf stable, but do but require refrigeration after opening.
All Smoke Show sauces have a one year shelf life after opening. All Smoke Show spices and rubs have a two year shelf life after opening.
Yes! All Smoke Show bottles and packaging is fully recyclable.
Absolutely! We'd love to help you put together a special gift for your collegues, family, and anyone else. Email us at info@montrosefoods.com for more information.
Yummy with a Zing
The dijonnaise has a nice balance of flavors. It is excellent on my ham sandwich and also makes a great vinaigrette!
Great on wings.
5 of 5. Would recommend. A great wing flavor..not really hot. Price is the only downfall, as I can't afford to use as much as I'd like.
DONT SLEEP ON THIS SAUCE
bought this not thinking much of it, was i wrong! i can get enough of this sauce it has officially replaced mustard in my fridge, even got all my friends hooked on this. definitely need to add it to your burgers and sandwiches.
Wow! Just Wow!
I had it shipped to the US. Well worth the price of shipping. Well done! Goes good on anything.
Mustard reinvented
I thought little of mustard until I tasted this. Creamy and sooo tasty.