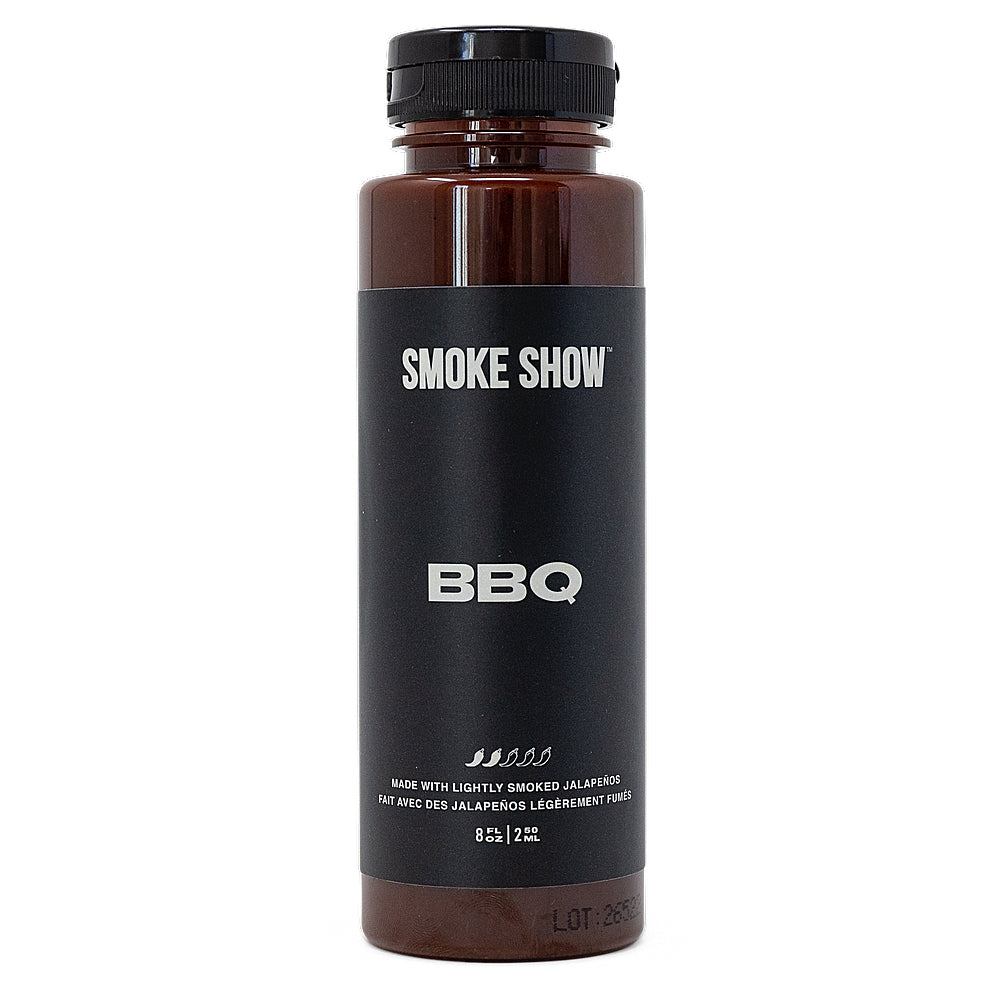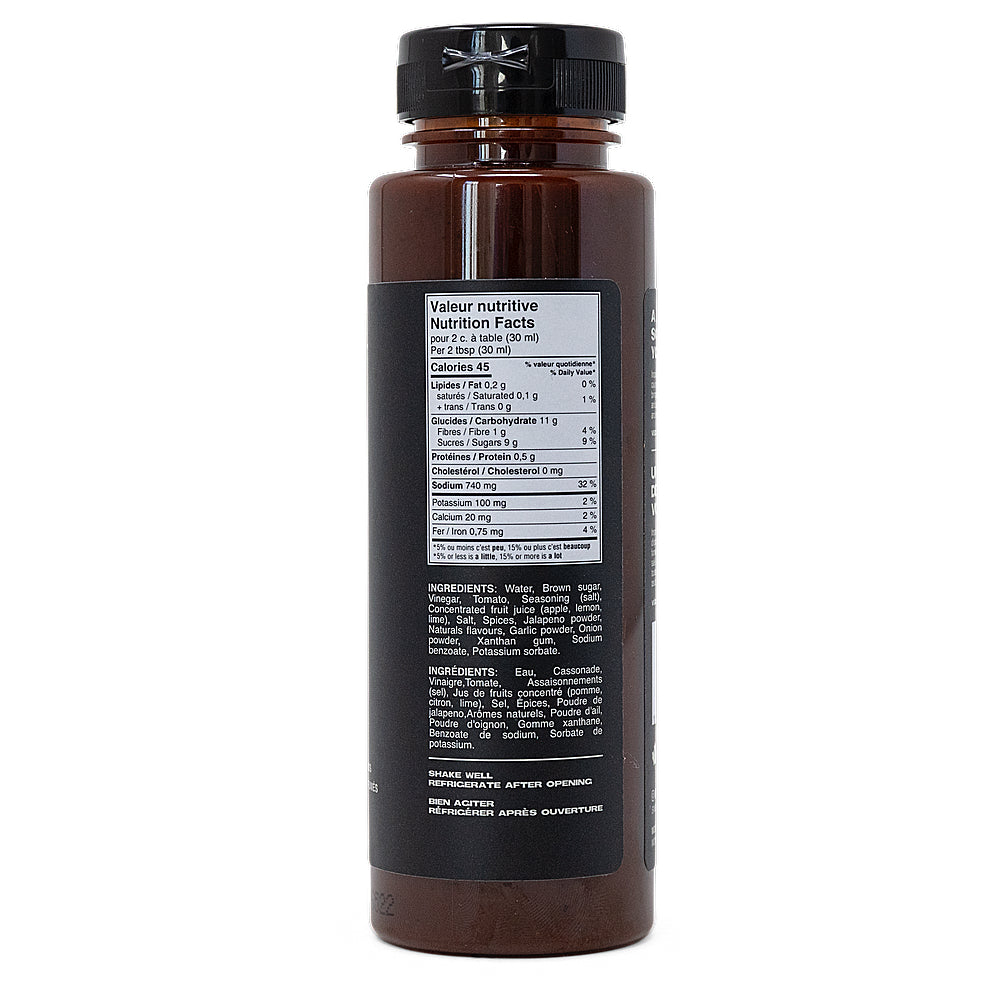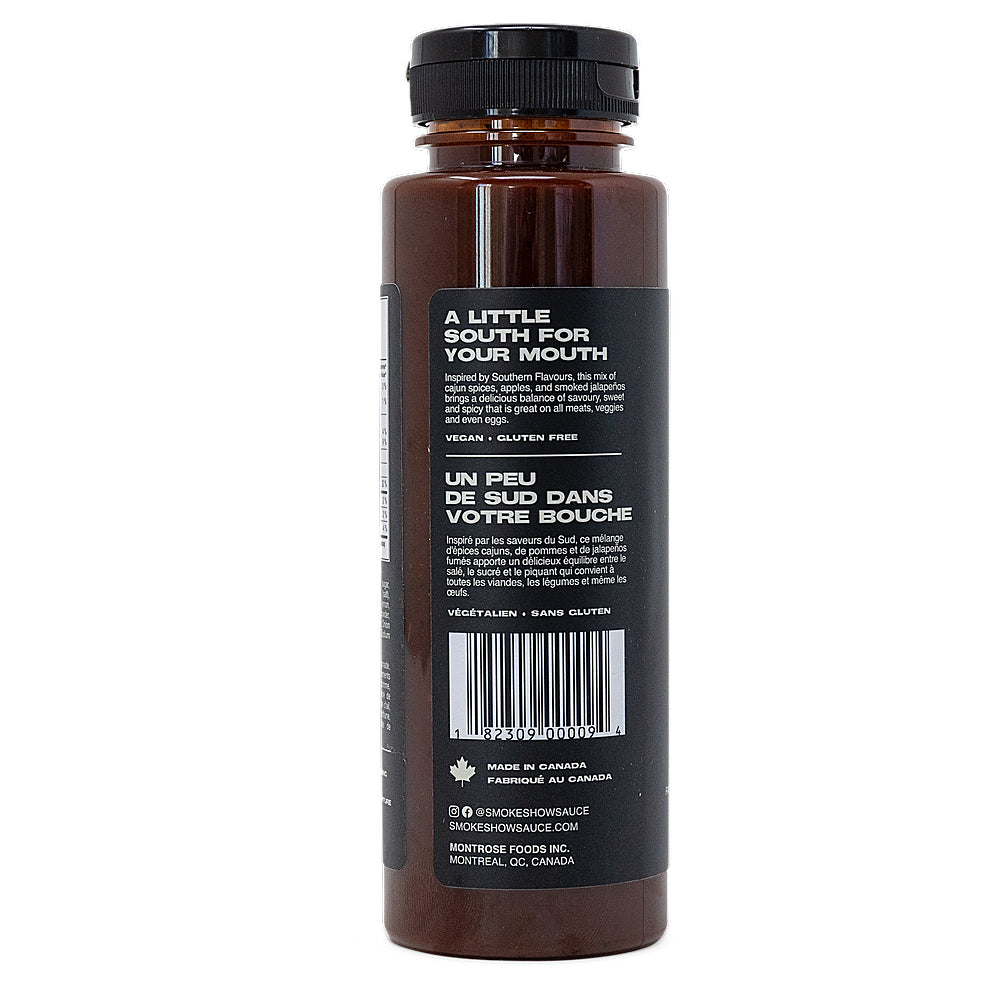 Smoke Show Jalapeño BBQ Sauce
Inspired by Southern barbecue flavours, this sauce highlights a more savoury profile than other BBQ sauces. The mix of cajun spices, apples, and smoked jalapeños brings a nice balance of sweet and spicy that is great on anything.
TRY IT ON: pork ribs, steak, grilled chicken, and even eggs in the morning. 
Check out our recipes page for some quick and easy recipe ideas. 
Water, brown sugar, vinegar, tomato, seasoning (salt), concentrated fruit juice (apple, lemon, lime), salt, spices, jalapeno powder, naturals flavours, garlic powder, onion powder, xanthan gum, sodium benzoate, potassium sorbate.
FAQs
All Smoke Show sauces are shelf stable, but do but require refrigeration after opening.
All Smoke Show sauces have a one year shelf life after opening. All Smoke Show spices and rubs have a two year shelf life after opening.
Yes! All Smoke Show bottles and packaging is fully recyclable.
Absolutely! We'd love to help you put together a special gift for your collegues, family, and anyone else. Email us at info@montrosefoods.com for more information.
Je n'ai jamais reçu ma commande, aucune réponse de la compagnie…. Je suis tellement déçu et fâchée…
Didn't recieved my order and no answer
It's been 1 month, nothing. No answer to my emails, my calls. I asked to cancel the order and no response…
I am furious. My order was over 100$ value….
Not happy
I have not received my order yet.
and I will not receive the aioli.
Trying to cancel the entire thing
Decent product
Maybe the recipe changed recently, but the sauce doesn't taste the same as before. Still a decent product but I remember it tasting much better.
jalapeños bbq sauce
this bbq sauce helps make the best Caesars!