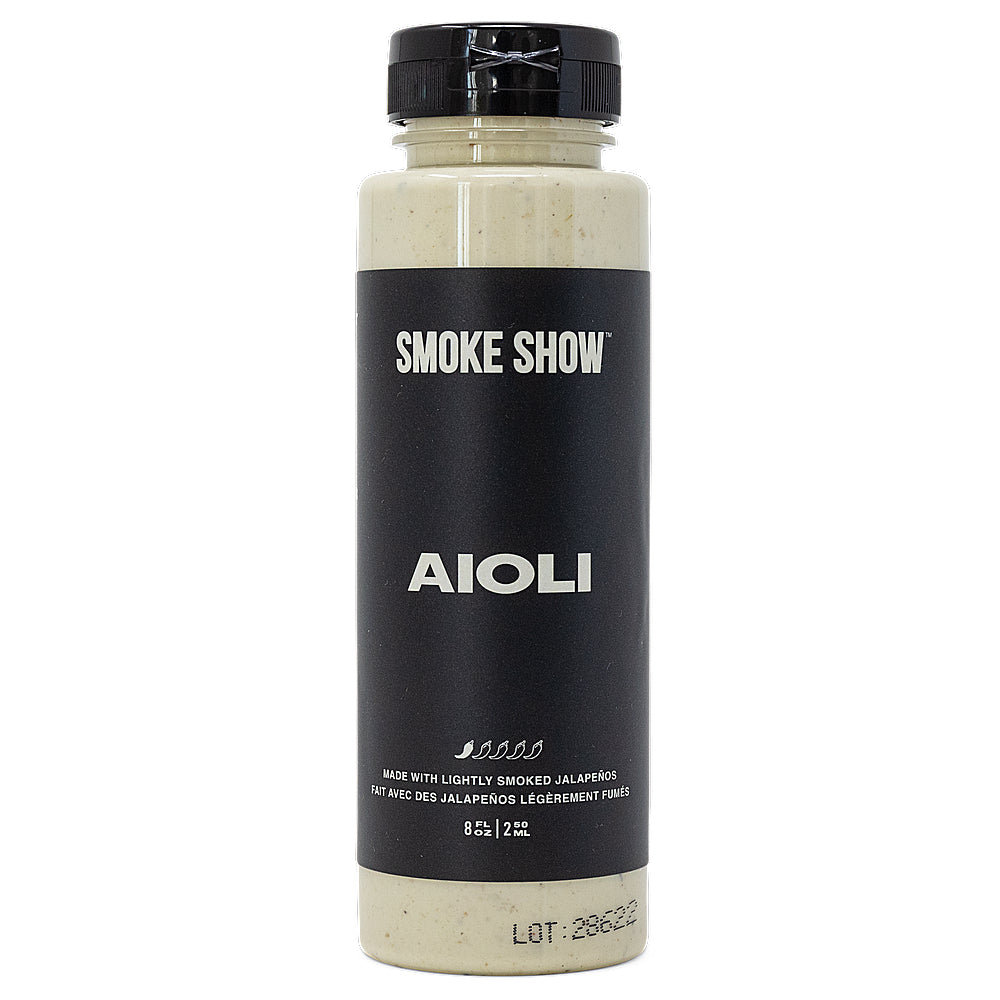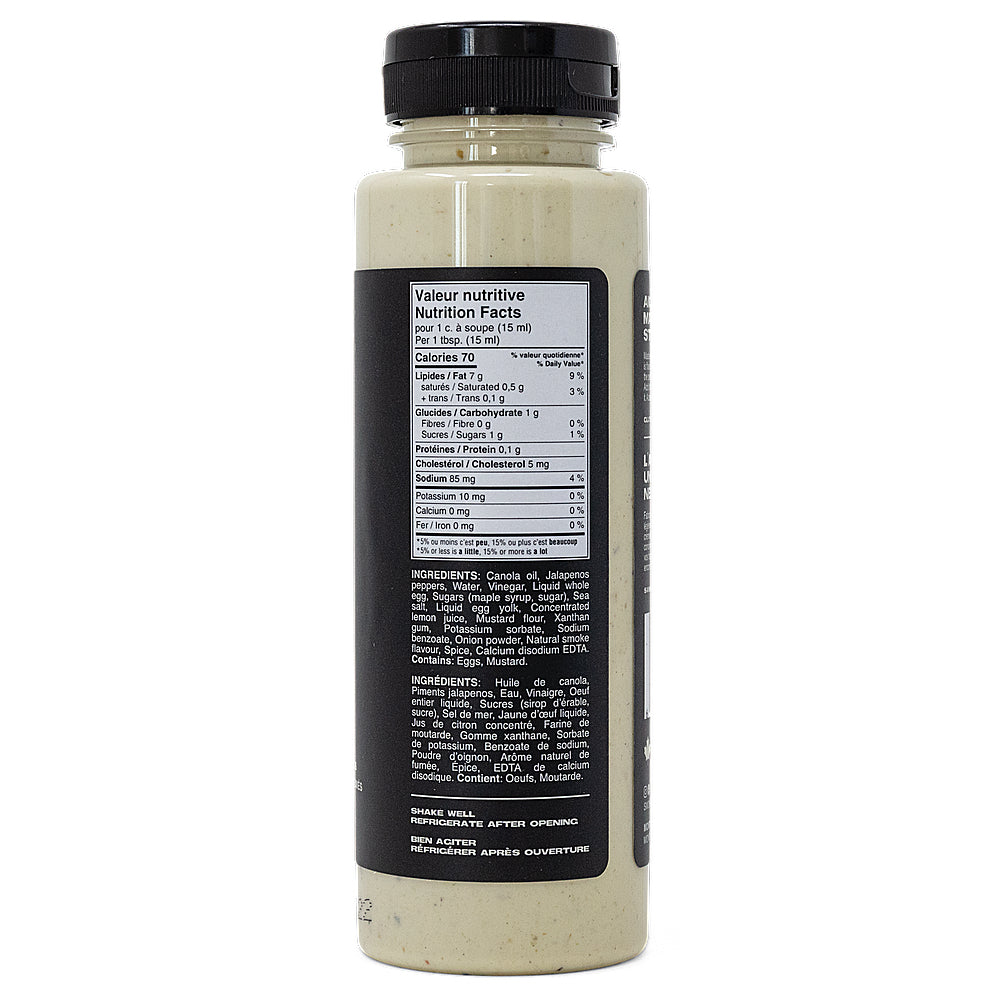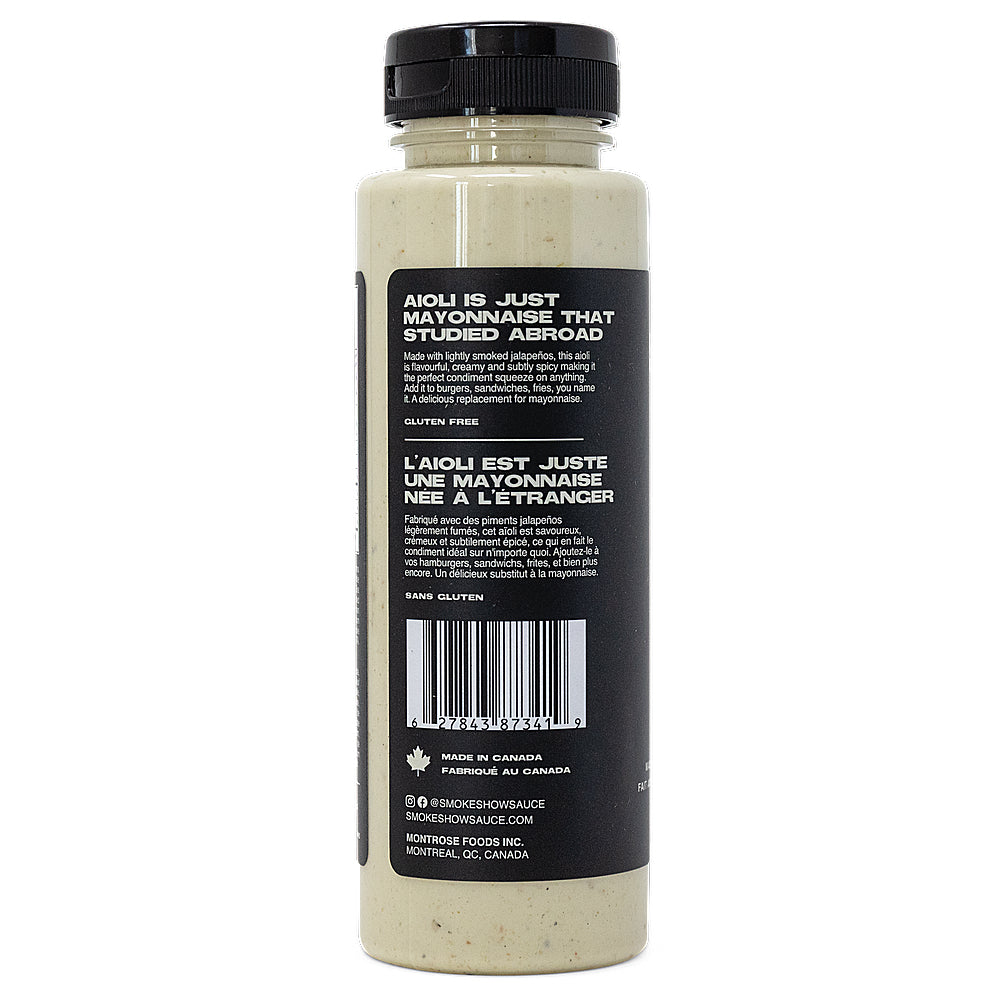 Smoke Show Jalapeño Aioli
This jalapeño aioli is truly a unique sauce in the Smoke Show line up. Made with lightly smoked jalapeño peppers, this creamy aioli is an incredibly delicious replacement for mayonnaise. 
TRY IT ON: on a burger, in a sandwich, in a potato salad or even as a vegetable dip.
Check out our recipes page for some easy dinner inspiration. 
Canola oil, jalapenos peppers, water, vinegar, liquid whole egg, maple syrup, sea salt, liquid egg yolk, sugar, concentrated lemon juice, mustard flour, xanthan gum, potassium sorbate, sodium benzoate, onion powder, natural smoke flavour, spice, calcium disodium edta. Contains: eggs, mustard.
FAQs
All Smoke Show sauces are shelf stable, but do but require refrigeration after opening.
All Smoke Show sauces have a one year shelf life after opening. All Smoke Show spices and rubs have a two year shelf life after opening.
Yes! All Smoke Show bottles and packaging is fully recyclable.
Absolutely! We'd love to help you put together a special gift for your collegues, family, and anyone else. Email us at info@montrosefoods.com for more information.
Still waiting on order
Have ordered before, its my daughter and I's favorite sauce. Literally goes on everything.
Love it!
I like spicey hot food so for me it isn't spicy but does have a little bit of a kick which we all love!! Recommend it for sure as my friend just tried it and she does NOT like spice at all but liked it's kick!
The BEST
The jalapeños aioli is the absolute BEST!!! I put that S#*t on EVERYTHING!!!!
Haven't received it.
We have sent two requires , and have not yet recovered it. When we looked up the tracking number it says it was delayed. Tracking number is 2010502861255663 , order number is 8410. Our payment went through. Please give us a call [****] or email [****]. Thanks
Great sauce!
Goes over so many things - burgers, eggs, sandwiches, pasta and more. Highly recommended.